As designers we enjoy exploring and discovering, we thrive on new ideas, embrace different, revel in the possible, find delight in patterns and shapes and colour – and it's probably why we love a good Mind Map.
I'm sure you're familiar with them – big snaking visual smorgasbords of random thought balloons loosely connected to a central concept or idea.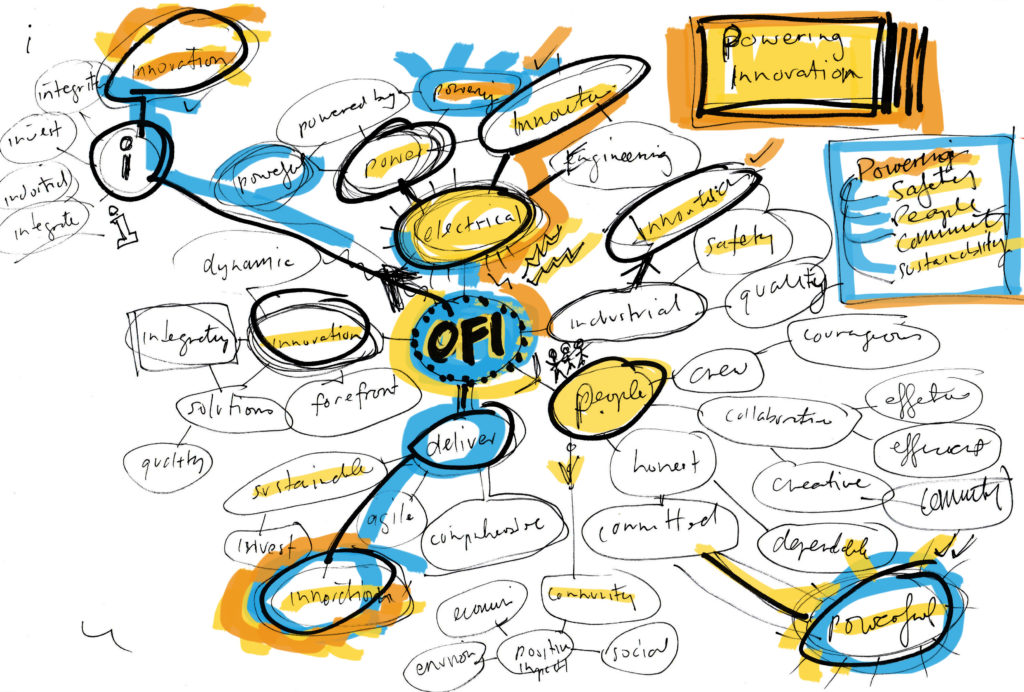 For right of brain thinkers like designers – seeing what we are thinking works wonders, and the more visually stimulating the Mind Map – the more creative our thinking becomes. 
And we're old-school – marker on a whiteboard, felt pen in a sketchpad, pencil on paper. Mind Maps are about getting ideas down fast – no matter where the thought comes from. No rules, no right or wrong, nothing is too outrageous.
Out of the web of randomness we begin to see patterns, see connections and see solutions. Mind Maps help us navigate a way through a problem in directions we may never had considered otherwise.
It's just a matter of getting the thought down and see where it takes us.
Image: Initial brainstorming Mind Map for OFI Group tagline – Powering Innovation.
"See what you think." quote from Lois Farfel Stark – Emmy Award-winning producer, documentary filmmaker, author.