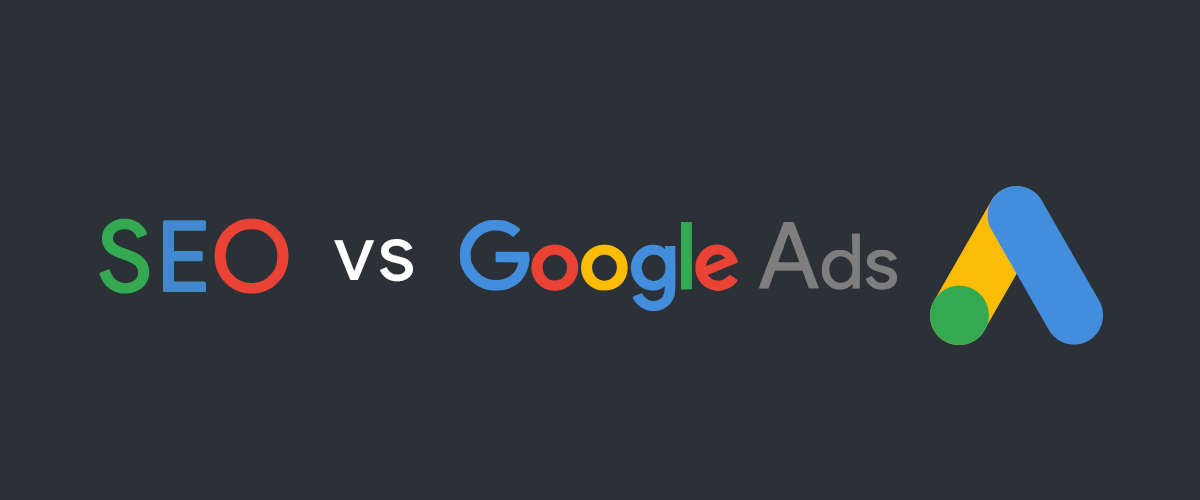 If you've built a website anytime in the last decade you have no doubt come across the term 'SEO' – possibly from receiving one of those countless annoying emails from an 'SEO expert' letting you know they tried Googling but couldn't find you and asking "Are you doing any SEO on your website?"
You may have even heard of Google Ads or 'Pay-per Click' (PPC), but without knowing the difference between the two you could be forgiven for thinking SEO and PPC are the same thing.
We have provided the information below to give you a broad comparison between Google Ads and SEO. There is a lot to unpack here and we are only scratching the surface! In this article we discuss what is meant by 'SEO' and 'PPC' as well as some of the pros and cons of each, but this is by no means comprehensive. So let's get started.
Firstly, lets clear one thing up…
Search Engine Optimisation and Google Ads are NOT the same thing
You may have noticed that search results pages are divided into several parts depending on what you are searching for.
To keep things simple, SEO can affect organic and local search results (and rich snippets to a certain extent), whereas Google Ads is Google's paid advertising platform.
I explain what each of these parts are below:
Organic Search Results (Affected by SEO)
Organic Search Results are the normal list of ten results per page relating to your search query. This is what you would normally think of when you think of Google.
Local Search Results (Affected by SEO)
Local Search Results is the list of businesses in an area that offer the services you are looking for which includes a map showing the top matching businesses in the local area.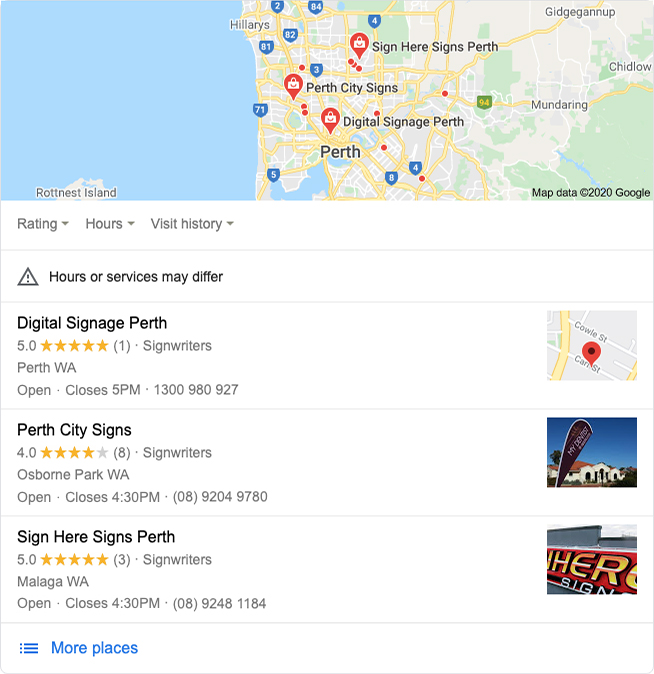 Rich Snippets (Affected by SEO)
Rich Snippets are the fancy bits that are included in some searches. These could include a collection of images, a knowledge card, answers and definitions, movie times, shopping, the list goes on.

Paid Advertising (Google Ads)
Paid Ads appear at the top and bottom of the search results. They also appear on other sites in different sizes and formats.

What is Search Engine Optimisation?
Search Engine Optimisation, or SEO, refers to activities performed to boost your website's credibility.
Google's ever-evolving algorithm measures your website against all other websites it can find and weighs-up which are the most relevant for what a user is searching for. Google has 200 ranking factors to measure against and provides every page a score to decide who deserves to be listed and in what order.
Following research into the objectives for your website and your competitors, we are tasked in improving as many of the ranking factors we can with the aim to make your website appear more relevant than your competitors. We divide the optimisation process into three types depending on where the changes are made:
On-page SEO
Making sure all website content is optimised for relevant keywords to help Google determine what searches your content should show for.
Off-page SEO
Finding websites to link back to your site. Back-links demonstrate trust and authority from other sources. If other sites trust you, then so should Google.
Technical / Around-the-page SEO
Making sure there are no issues that affect how Google and other search bots can access and read your content. This also includes ensuring pages, text, images, etc has the relevant metadata so that they can be listed correctly in search results.
Pros of SEO
Coverage: Through SEO, your website can build strong brand recognition. For instance, successful blogs gain popularity because they are easily found and shared. This happens organically through a combination of adding content about the right subjects and a well optimised site – no paid ads are required.
Credibility: "I searched XXXXXXX and you came up first, so you must be the best, right?"
People tend to trust organic search results more than ads. Also, if your site repeatedly ranks well in people's search results then you can appear to be very credible and authoritative.
Cost: SEO is a long-term investment and while it may be a slow process, the return on investment tends to be much higher than with paid advertising.
Longevity: Organic search results tend to stick around. Even if you happen to stop investing in SEO, you should still reap the rewards for a long time afterwards.
Better Engagement: Many people are more likely to click on the top organic results instead of ads. They understand that organic results are earned. rather than paid for.
Unlimited: Google Ads will only work for you while your budget allows. If you deplete your budget, your ads will stop. But with strong content creation and a targeted SEO strategy, your brand can become visible to a much larger audience.
Cons of SEO
Time: SEO takes time. It can take months, if not years, to get your website to rank for a particular keyword and there is no guarantee you will get top position.
Competitive: Depending on what you are optimising for, there could be many businesses vying for top position. Your site will need to be the most relevant and trusted authority on the subject if you want to have any chance of competing.
Quality-focussed: Google's algorithms are forever increasing their demand for quality content. Long gone are the old tactics of flooding a site with keywords to trick Google into giving you good rankings – nowadays you must provide quality, relevant content on a regular basis. After all, if you want people to trust you – then it should be reflected in the quality of your website's content.
Link Building is Difficult: Inbound links to your site are critically important to achieving strong rankings. Google see this as a key indicator of trust and authority. But finding quality websites to link to your website takes a lot of effort and can be extremely time consuming.
What is Google Pay-Per-Click Advertising?
Google Ads are advertising campaigns based on a set of keywords that you tell Google you want your ad to show up for. Each time your ad is shown and a user clicks on it – you pay a fee to Google.
Every time a user searches for one of your keywords, Google runs an ad auction between you and all other sites bidding on that keyword to determine which ads show where. The cost per click can range anywhere from a few dollars to hundreds depending on how competitive the market is.
Pros of PPC
Instant Results: This is main reason people choose to use PPC – you can get your website appearing in the most prominent position in the search results you want it to, straight away. For instance, if you are a new business and want to get noticed quickly and effectively, PPC is a great way to do so.
More Options: PPC allows you to have more control over the appearance of your ad. From the ability to add more text and details like phone numbers, pricing, etc; to the option to include images and graphics on display ads.
Broader Reach: Google Ads can appear in more places than just at the top and bottom of search results. Ads can be displayed on other websites and even in apps.
Targeted: To ensure your precious marketing budget isn't wasted on people outside your target market, you have the ability to decide who sees your ads. You can target ad placements based on age, gender, location and interests. You can also select which websites to place your ads on and which to exclude.
Furthermore, you can choose to exclude terms that your keyword could be related to, but doesn't fit with your business objectives. For example, let's say you are a property developer looking to sell land. You might target "Real Estate in Perth" as part of your keyword strategy, you might also want to exclude all searches about "Rentals".
Testing: With PPC, you have the ability to run multiple versions of the same ad to see which gets the most engagement from your audience.
Cons of PPC
It can be expensive: PPC can cost a lot of money. Particularly if you have an international audience or your keywords are very competitive. Also, if you don't spend the time optimising your ads to your target market, you could be spending more than you might otherwise need to. Additionally, you need to keep spending money for PPC to work – if you stop investing in Google Ads, your ads stop running.
Competitive: More and more people are using Google Ads to get their businesses seen. Unfortunately, the more competitive your keywords are the higher the average cost per click will be for you.
You need to monitor it: While it is possible to simply set your ad up and leave it to run, you will soon discover that your ads are not always being seen by the right people. For instance, if your audience is too broad then you will likely burn through your budget very quickly without getting much engagement. Conversely, if your audience is too narrow then you might find that your ads are simply not being seen. Regular monitoring of your PPC campaign will allow you to review its effectiveness and assess what is, and isn't, working for you and make changes on the fly to remedy it.
So… Which should I choose?
As I'm sure you've figured out by now: it depends.
Depending on the type of business you are and your website objectives, you need to evaluate whether SEO or PPC will work for you – if not both.
Typically, we would recommend Google Ads to businesses who want to achieve measurable outcomes from their website that can be converted directly into a sale. For example, if you have an ecommerce site and you want to cut though the competition quickly, then PPC would definitely be worthwhile. However, if your website is purely informational – perhaps a site promoting your bricks-and-mortar business – it might be more suitable to allow your rankings to grow organically through SEO.
Rarely would we advise not doing any SEO at all – unless you have a website that already ranks well organically. In that instance we may recommend investing in a Google Ads campaign to target specific objectives. Conversely, if you are to invest in PPC, then you should complement that with a certain amount of SEO to ensure that your rankings remain when your advertising stops.
If you're still not sure what you should do or where to start, why not contact us to see if we can help you connect with more customers through your website.